Legend of the day. "The Serial Killer" Travis Lutter began as a wrestler in Junior High School. And turned it into an All-State high school career. He was wrestling in college when he saw the first UFC. He began training in Muay Thai but was then influenced by what he saw in the UFC, and sought out a BJJ school. He moved to Texas to train with Carlos Machado.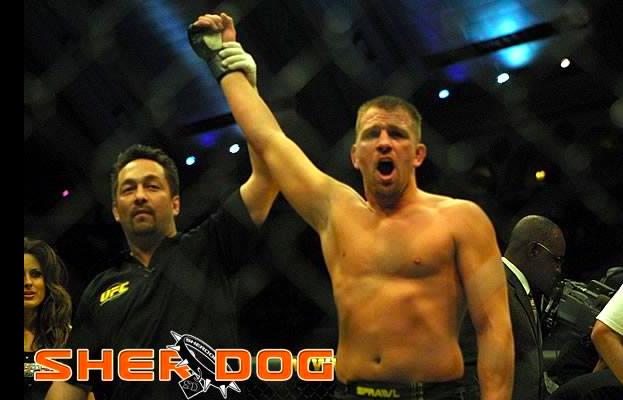 He would quickly become one of the top submission grapplers in the country. And would earn his black belt under Carlos Machado. Lutter would then begin training with the legendary Lion's Den to prepare for his MMA career. He would amass a 5-1 MMA record through his first 6 fights, with three submission wins under his belt.
He would then earn the call to enter the octagon at UFC 50 in Atlantic City. To take on explosive kickboxer "the Beastman" Marvin Eastman in the opening bout of the night. The fight would begin tentatively, with both fighters hesitant to engage. Eastman seemed wary of the takedown, while Lutter was worried about Eastman's KO power. However, in between the first and second round. Lutter was told by his corner to trust in his knockout power and to throw the right hand. Early in the second round, Lutter threw the overhand right. Knocking out the powerful kickboxer and bringing the Atlantic City crowd to their feet. even exclaimed in the post-fight interview. "Travis, you are an excellent submission grappler. What are you doing knocking out the kickboxer?!"

Lutter returned at UFC 52 to take on the number one ranked middleweight in the world Matt Lindland. Where he would succumb to a second round guillotine choke. He would make his Cage Rage debut in his next fight, making quick work of Matt Ewin. Before returning to the octagon at UFC 54. A decision loss to the tough South African Trever Prangley followed.
He would return to Cage Rage to take on the legendary Chute Boxe fighter, Jose Pele Landy. "The Serial Killer" would dominate "Pele" en route to another first round armbar victory. Another quick armbar victory in his hometown of Fort Worth, Texas earned him a return to the octagon, in the form of the Ultimate Fighter Season 4. That season of "TUF" was unique from all others. In that the fighters on the show were not "up and comers", or fighters that fans had never heard of before fighting for a contract. That season, entitled "the Comeback". Featured legends and veterans of the octagon competing for a title shot.
Lutter would feature on "Team No Love". And was actually the only member of his team (at either welterweight or middleweight) to make it out of the quarterfinals. Submitting the hard punching "Hands of Steel" Scott Smith with relative ease in the first round.
Prior to his semifinal bout, while others asked for certain fighters in the next round, Lutter made it clear that he could "beat any of those guys". He followed that up claim with a unanimous decision win over Matt Serra product Pete "Drago" Sell to advance to the finals. At the Ultimate Fighter finale on Veterans Day 2006, Lutter made quick work of Patrick Cote to win the tournament and the title shot.
However, his title shot wouldn't happen, as he weighed in a pound and a half over the middleweight limit. In the fight, he had Anderson "Spider' Silva in trouble early. And nearly submitted the legendary Brazilian, but would get caught in a triangle and ultimately tap to elbows.
His next fight would be his last in the octagon against Rich Franklin. Pundits still debate what happened in that fight to this day, as Lutter had Franklin in an armbar. It appeared as though he could've broke Franklin's arm with relative ease. But instead opted not to, and "Ace" would eventually escape the armbar and go on to win the bout.
Lutter would obtain one more victory in MMA competition. A unanimous decision victory over "the Athlete" Jason Mcdonald in the Maximum Fighting Championship. It marked only the second decision victory and his first since his debut fight. Lutter would retire shortly after that fight to focus on training his students.