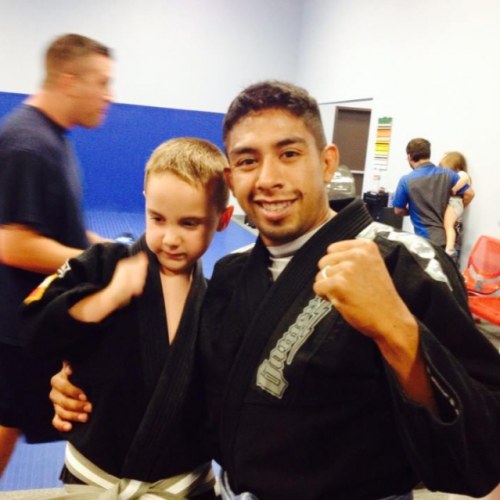 Calvin Huezo
Kids Class and Beginner Class Instructor, Brown Belt rank
Teaches at the East locations
Calvin is 30 years old and he is part-time student at UTA, where he is studying Mechanical and Aerospace Engineering.
Calvin served four years in the United State Army Infantry and he was awarded multiple awards. The awards Calvin received included: the Good Conduct Metal, the Army Achievement Metal, the Army Commendation Metal, and an award for scoring high on his physical fitness tests.
He quickly rose through the ranks and made the rank of Sergeant in less than three years. He also graduated from the Warrior Leadership Course at Wightman NCO Academy.
He became a student of Brazilian Jiu Jitsu in the fall of 2010 and was promoted to a blue belt in June 2011.
Calvin started as an assistance coach for both the Beginners /Intermediate and the Kids class in the summer of 2012. In April 2013 he was moved to the east location and was given the Head Coach position for the Beginners/Intermediate and the Kids class.
Calvin's goal is to win the Light Feather Adult Division at The World Championship, Pan American, and Master World Championships in the masters division (30-36 years old). His goal as a Instructor is to help his students fall in love with Brazilian Jiu Jitsu and to help pass on the knowledge that his Instructors have shared with him.
Tournament Wins:
Texas BJJ Championship 2013-2014: Gold and multiple Silvers in the blue belt division.
Brazilian Jiu Jitsu Classic 2013: Silver in the Submission only blue belt division
North American Grappling Association 2014: Gold in the blue belt division
American Grappling Federation2014: two Silver in the blue belt division
The All Valley 2014: Silver in the Absolute and Gold in the feather weight division
Five Grapplers Texas 1 2014: one Silver and one Bronze in the blue belt division